WARNING!: This is not a browser, It's an information page of an non-plot story.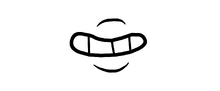 Appearance
Edit
She has a curved semi-circle with three straight lines with a curved line on the top and the bottom. She sometimes has arms.
Personality
Edit
Nothing is known about hee dee hee!'s Personality yet.
hee dee hee! is actually one of Almandine's 2017.